Welcome
Check for advance tickets only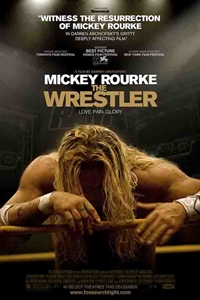 The Wrestler
Opens 12/17/2008
Rated R for violence
Back in the late '80s, Randy "The Ram" Robinson was a headlining professional wrestler. Now, 20 years later, he ekes out a living performing for handfuls of diehard wrestling fans in high school gyms and community centers around New Jersey and living only for the thrill of the show. However, a heart attack forces him into retirement. As his sense of identity starts to slip away, he begins to evaluate his life--trying to reconnect with his daughter, and striking up a romance with an exotic dancer. Yet, all this cannot compare to the allure of the ring, which threatens to pull Randy back into his world of wrestling.
CAN'T FIND THE SHOW TIME YOU ARE LOOKING FOR?
We post new schedules on Tuesday evenings for Friday through the following Thursday.
In some cases, advance tickets for future releases will be posted by date.
Closed Captioning and Descriptive Video devices available by request at theater box office.
Find Showtimes & Buy Tickets
*Click on time to purchase tickets