Welcome
Check for advance tickets only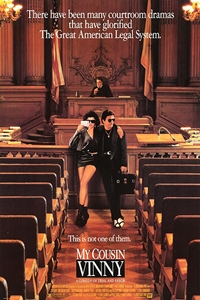 My Cousin Vinny
Opens 3/13/1992
Rated R for language
Two pals traveling through Alabama are mistakenly arrested, and charged with murder. Fortunately, one of them has a cousin who's a lawyer - Vincent Gambini, a former auto mechanic from Brooklyn who just passed his bar exam after his sixth try. Vinny's never been in court - or in Alabama - and when he arrives to try his first case, it's a real shock - for him and the Deep South!
CAN'T FIND THE SHOW TIME YOU ARE LOOKING FOR?
We post new schedules on Tuesday evenings for Friday through the following Thursday.
In some cases, advance tickets for future releases will be posted by date.
Closed Captioning and Descriptive Video devices available by request at theater box office.
Find Showtimes & Buy Tickets
*Click on time to purchase tickets