Welcome
Check for advance tickets only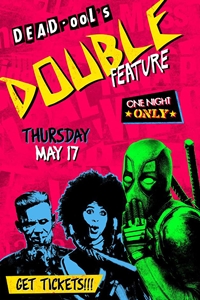 Deadpool Double Feature
Opens 5/17/2018
Rated R
Single movie experiences leaving you unfulfilled? Well, a double dose of everyone's favorite Merc with a Mouth is sure to be the kick in the solar plexus that you need to get an early jump on 'Pool Season!
CAN'T FIND THE SHOW TIME YOU ARE LOOKING FOR?
We post new schedules on Tuesday evenings for Friday through the following Thursday.
In some cases, advance tickets for future releases will be posted by date.
Closed Captioning and Descriptive Video devices available by request at theater box office.
Find Showtimes & Buy Tickets
*Click on time to purchase tickets