Check for advance tickets only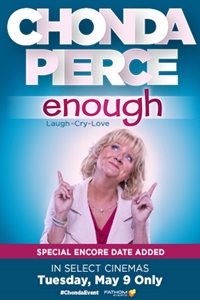 Chonda Pierce: Enough
Opens 4/25/2017
Rated
Fathom Events is excited bring Chonda Pierce: Enough to select cinemas nationwide for a special one-night event on Tuesday, April 25. Chonda Pierce has built her career by being "real" - sharing her heart, talking about difficult issues, and blending it all with humor, insight and self examination. Her vulnerability and wit have made Chonda Pierce the #1 selling female comedian in history. In Chonda Pierce: Enough, Chonda and some special guests help women look to their relationship with Christ as the answer for completeness and self-acceptance. Laugh, Cry, Love...Through faith in Christ, if you have a relationship with Jesus, you have everything you need and acceptance into the kingdom of God.
Playing at:
The Grand 14 - Ambassador
The Grand 18 - Hattiesburg
The Grand 16 - Slidell
The Grand 16 - Pier Park
The Grand 12 - Four Seasons Station
CAN'T FIND THE SHOW TIME YOU ARE LOOKING FOR?
We post new schedules on Tuesday evenings for Friday through the following Thursday. In some cases, advance tickets for future releases will be posted by date.
Closed Captioning and Descriptive Video devices available by request at theater box office.
Find Showtimes & Buy Tickets
*Click on time to purchase tickets