Check for advance tickets only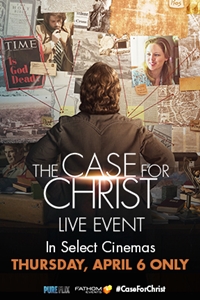 Case for Christ: LIVE
Opens 4/6/2017
Rated
Fathom Events and Pure Flix are excited to bring the big screen premiere of The Case for Christ to select cinemas nationwide for a special LIVE one-night event on Thursday, April 6. This premiere screening will allow audiences the ability to be the first to see the film, The Case for Christ, and participate in an exclusive LIVE Q&A with Lee and Leslie Strobel. This moving one-night event is for everyone who has ever pondered the existence of God... and what role he could play in their lives.

Event attendees will also receive a free download of the first two (2) chapters of The Case For Christ book.

CAN'T FIND THE SHOW TIME YOU ARE LOOKING FOR?
We post new schedules on Tuesday evenings for Friday through the following Thursday. In some cases, advance tickets for future releases will be posted by date.
Closed Captioning and Descriptive Video devices available by request at theater box office.
Find Showtimes & Buy Tickets
*Click on time to purchase tickets