Check for advance tickets only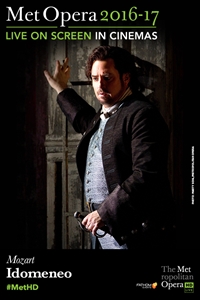 The Metropolitan Opera: Idomeneo
Opens 3/25/2017
Rated NR
The Met: Live in HD 2016-17 season presents a broadcast of Mozart's Idomeneo, presented live in select cinemas nationwide on Saturday, March 25. James Levine conducts a rare Met revival of Mozart's Idomeneo, set in the aftermath of the Trojan War. Jean-Pierre Ponnelle's classic production, which has its first Met revival in over a decade this season, stars Matthew Polenzani in the title role. The cast also includes Elza van den Heever as Elettra, Nadine Sierra as Ilia, Alice Coote as Idamante, and Alan Opie as Arbace.
CAN'T FIND THE SHOW TIME YOU ARE LOOKING FOR?
We post new schedules on Tuesday evenings for Friday through the following Thursday. In some cases, advance tickets for future releases will be posted by date.
Closed Captioning and Descriptive Video devices available by request at theater box office.
Find Showtimes & Buy Tickets
*Click on time to purchase tickets