Check for advance tickets only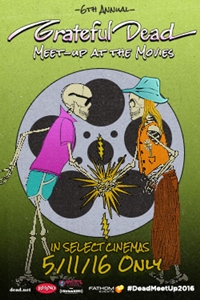 Grateful Dead Meet Up 2016
Opens 5/11/2016
Rated NR
Fathom Events and Rhino Entertainment bring legendary rock band, the Grateful Dead, back to the big screen for the sixth annual Meet-Up at the Movies on Wednesday, May 11.

This year's Meet-Up features the previously unreleased Grateful Dead concert from Sullivan Stadium, Foxboro, MA 7/2/89. This epic performance was captured in front of a sold out crowd of 60,000, and would kick off one of the Dead's best tours in their final 15 years! Plus, cinema audiences will be treated to exclusive Dead & Co. footage and an interview with David Lemieux on the making of the July 1978: The Complete Recordings box set.

CAN'T FIND THE SHOW TIME YOU ARE LOOKING FOR?
We post new schedules on Tuesday evenings for Friday through the following Thursday. In some cases, advance tickets for future releases will be posted by date.
Closed Captioning and Descriptive Video devices available by request at theater box office.
Find Showtimes & Buy Tickets
*Click on time to purchase tickets