Welcome
Check for advance tickets only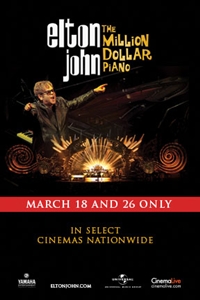 PASS POLICY* No passes will be accepted during the first 14 days of a new release.
Elton John: The Million Dollar Piano
Opens 3/18/2014
Rated NR
Fathom Events, CinemaLive, and Rocket Music Entertainment Group are ecstatic to bring Sir Elton John to select cinemas nationwide for a spectacular two-night event on Tuesday, March 18 and Wednesday, March 26. Captured live from his residency at The Colosseum at Caesars Palace in Las Vegas, The Million Dollar Piano features all of Elton's greatest hits from throughout his legendary career PLUS an exclusive behind-the-scenes look at the making of Goodbye Yellow Brick Road.
Playing at:
Find Showtimes & Buy Tickets
*Click on time to purchase tickets