Welcome
Check for advance tickets only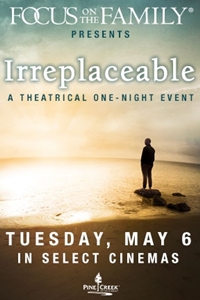 PASS POLICY* No passes will be accepted during the first 14 days of a new release.
Focus On The Family Presents: Irreplaceable
Opens 5/6/2014
Rated NR
Fathom Events, Focus on the Family™ and Pine Creek Entertainment invite you to explore "What is family - and does it still matter in today's society?" in the one-night cinema event Irreplaceable. Broadcast to select movie theatres nationwide on Tuesday, May 6 at 7:30pm (local time), join host Tim Sisarich as he meets with experts around the globe to explore this fascinating subject in a documentary and panel discussion that will discuss views on family and its role in society.
Playing at:
Find Showtimes & Buy Tickets
*Click on time to purchase tickets