Check for advance tickets only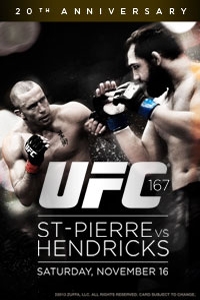 UFC 167: St-Pierre vs. Hendricks
Opens 11/16/2013
Rated NR
NCM Fathom Events and the Ultimate Fighting Championship® (UFC®) are celebrating the organization's 20th Anniversary with UFC 167: ST-PIERRE vs HENDRICKS broadcast LIVE to select movie theaters nationwide on Saturday, November 16 at 9:30PM ET/ 8:30PM CT/ 7:30PM MT/ 6:30PM PT/ 5:30PM AK/ 3:30PM HI. Georges St-Pierre, one of MMA's best pound-for-pound fighters, will be facing an opponent with the style and desire to end his streak in an explosive fashion - Johny Hendricks. Don't miss this epic battle! ©2013 Zuffa, LLC. All rights reserved. Card subject to change.
CAN'T FIND THE SHOW TIME YOU ARE LOOKING FOR?
We post new schedules on Tuesday evenings for Friday through the following Thursday. In some cases, advance tickets for future releases will be posted by date.
Closed Captioning and Descriptive Video devices available by request at theater box office.
Find Showtimes & Buy Tickets
*Click on time to purchase tickets