Check for advance tickets only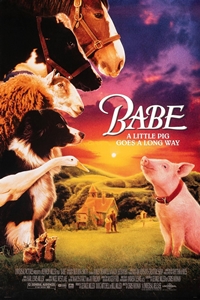 Babe (1995)
Opens 8/4/1995
Rated G
Doctor Dolittle is a world-renowned veterinarian who speaks a wide array of animal languages. He sets off from his home in Puddleby-on-the-Marsh, England, in search of the Great Pink Sea Snail. In so doing, he and his friends meet such exotic creatures as the Pushme-Pullyu and the Giant Moon Moth.
CAN'T FIND THE SHOW TIME YOU ARE LOOKING FOR?
We post new schedules on Tuesday evenings for Friday through the following Thursday. In some cases, advance tickets for future releases will be posted by date.
Closed Captioning and Descriptive Video devices available by request at theater box office.
Find Showtimes & Buy Tickets
*Click on time to purchase tickets