Welcome
Check for advance tickets only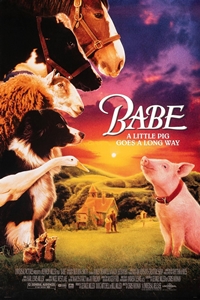 Babe (1995)
Opens 8/4/1995
Rated G
Doctor Dolittle is a world-renowned veterinarian who speaks a wide array of animal languages. He sets off from his home in Puddleby-on-the-Marsh, England, in search of the Great Pink Sea Snail. In so doing, he and his friends meet such exotic creatures as the Pushme-Pullyu and the Giant Moon Moth.
Find Showtimes & Buy Tickets
Closed Captioning and Descriptive Video devices available by request at theater box office.
*Click on time to purchase tickets