Check for advance tickets only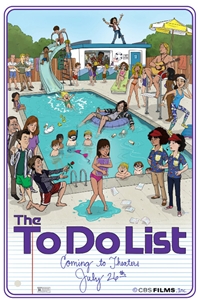 The To Do List
Opens 7/26/2013
Rated R for pervasive strong crude and sexual content including graphic dialogue, drug and alcohol use, and language - all involving tee
This film is a comedy about close friends and a special summer project, loosely inspired by the real-life adventures of first-time writer/director Maggie Carey. Set in 1993, valedictorian Brandy Klark wants to shed her uptight image before college, so she assembles a to do list of all the "activities" she missed out on in high school. Quickly realizing that she's way out of her depth, Brandy solicits her best friends, older sister and burnt-out boss for their help and advice. If the group is going to complete the list by September they'll need plenty of imagination and very open minds.
CAN'T FIND THE SHOW TIME YOU ARE LOOKING FOR?
We post new schedules on Tuesday evenings for Friday through the following Thursday. In some cases, advance tickets for future releases will be posted by date.
Closed Captioning and Descriptive Video devices available by request at theater box office.
Find Showtimes & Buy Tickets
*Click on time to purchase tickets